GPT is committed to a 'closed loop' approach to resource use and minimising waste to landfill in all areas within our control, and to supporting and encouraging improvements in areas within our influence.
At GPT In 2018:
Recycling rates improved from 29% to 40% (compared to the 2005 baseline recycling rates)
Background and Policy
GPT recognises that resources are being consumed and waste generated at unsustainable rates. We believe we can reduce these impacts, particularly relating to occupants' waste management.
Managing waste and resources responsibly enables:
reduced waste costs;
preparedness for emerging regulations and increasing community expectations; and
contributing towards a world that uses resources at rates that can be replenished and disposes of waste at rates that can be re-absorbed without harm.
Developing assets is resource intensive by nature and potentially generates significant waste. GPT minimises development impacts by working with builders to:
undertake material selection sensitive to the environmental impacts
maximise recovery from demolition works and
minimise waste in the construction process.
GPT's Waste and Resource Management Policy contains our complete policy background and commitments.
Targets
Ultimately, GPT aims to achieve closed-loop resource use, meaning waste materials are recovered in a way that enables them to re-enter the same production cycles and used for the same purpose . The quality of recycling, or the retention of value in the recycling process, needs to be considered when understanding if a closed loop approach is being achieved.
To address this, GPT is adding a quality measure to waste reporting and targets. By the end of 2016, all waste contracts in GPT managed assets incorporated requirements for standardised quality measures. A number of GPT co-owned but non-managed assets also began incorporating the quality measure in waste reporting.
Broadly, this GPT initiative is described as outcomes based reporting where recycling quantity and quality are reported. The quality is measured as different grades for the recovery outcomes where:
A-grade recovery meets the closed loop objective and are recovery processes that can occur repeatedly; for example fibre and metals recovery, as well as food waste processing to a standard that produces a product with no end use restrictions
B-grade recovery status is applied to processes described as down-cycling. An example of downcycling is the use of mixed food grade plastics to produce a packaging, non-food grade plastic. This does not meet the GPT closed loop objective, but avoids landfill disposal. B-grade recovery is for downcycling items to lower value commodities
C-grade recovery is for processes that have a one-off end of life re-use that does not meet GPT's closed loop objective; for example, Organic growth medium (OGM) from a mixed source waste that is produced in an alternate waste treatment facility or mine site rehabilitation. It may only be allowable to apply the product once. 
The past year's targets are outlined below. Note that improvements in data validation continued to improve, excluding poor quality recycling data previously reported.
For 2019 and beyond GPT will set targets for closed loop recovery, not diversion from landfill. To remain consistent with industry, we will continue to report lower-grade outcomes, but for targeting purposes we will remain consistent with our objective to recover 98% of materials leaving our buildings in a closed loop way.
| Target Category | 2018 Target | 2018 Performance and progress | 2019 Target |
| --- | --- | --- | --- |
| A-grade (closed loop) recovery | 30% | Achieved 30% | 31% |
| B-grade recovery | 6% | Achieved 5% - impacted by facility availability | hold (5%) |
| C-grade recovery | 5% | Achieved 4% - impacted by NSW EPA rulings. | na |
| Recycling rate | 41% | 40% combined recovery | 36% |
Performance, Based on Outcomes
Over the past four years, GPT has applied a first principles, science-based approach to waste management, undertaking a comprehensive and disruptive reform process to contracting, measurement, reporting and audit processes. This approach has enabled high-integrity reporting of the final pollution caused by GPT's waste management services and continues to focus us on prioritising real outcomes that minimise environmental pollution and recovery of materials back into their respective commodities markets.
'Taking the rubbish out of recycling data' - a discussion paper about an outcomes-based reporting approach to waste management', by Steve Ford, GPT's Head of Sustainability and Energy.
GPT acknowledges that the first strategy in avoiding landfill is reducing waste within our control. We've reduced paper consumption by over 70% in the past five years.  However, the majority of waste collected at GPT assets is from tenants and visitors, so our waste management program focus is maximising the quantity and quality of recycling.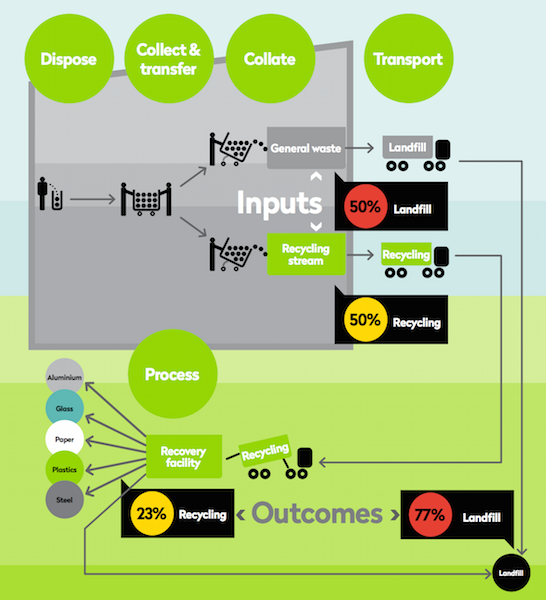 The charts below track the recycling results of GPT portfolios across the past ten years as well as the composition of recycled materials and the grade of their final outcomes.
Download our Environment Data Pack for more information.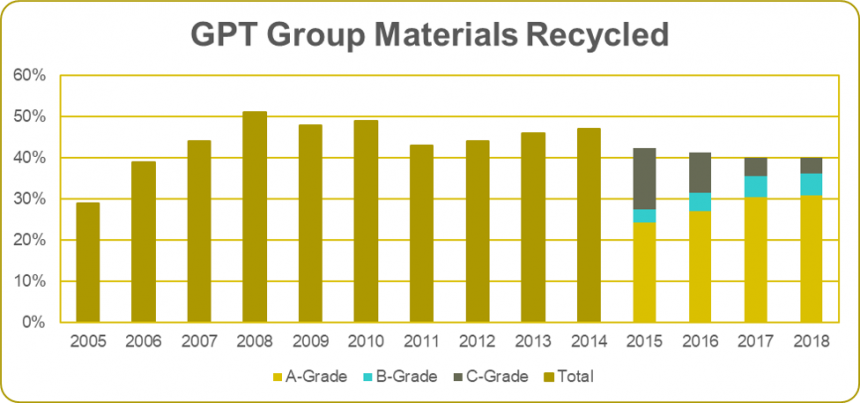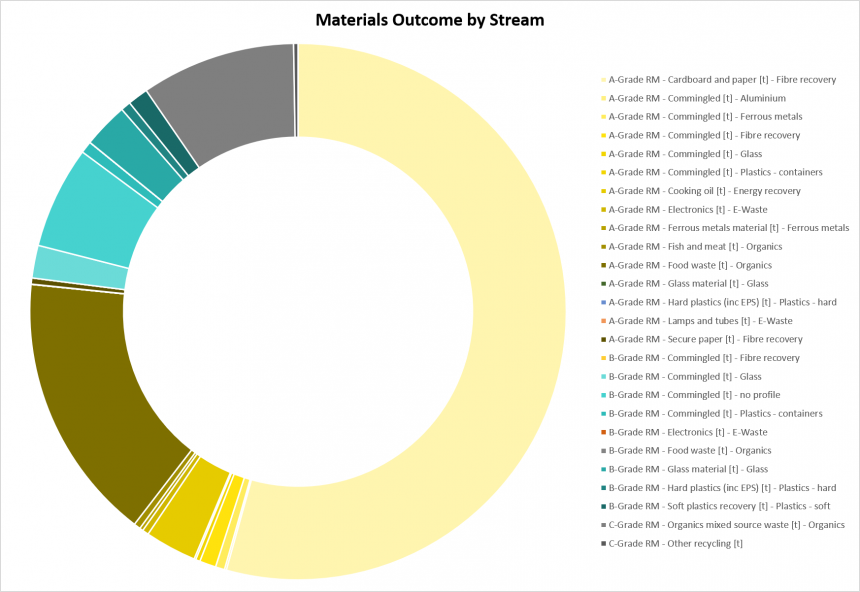 Hazardous Waste
GPT maintains a rigorous site management system designed to avoid generating hazardous waste. Asbestos registers are maintained at each site with well-developed management protocols.
Site Fit Out Guides and House Rules control the use of chemicals on site by tenants and contractors.
Development Waste
In general, GPT does not have operational control of waste from development sites; however, GPT does influence how contractors and suppliers manage waste through its Development Guidelines and Plan that include requirements for material selection and waste management, including requirements on our contractors to maintain waste management plans as part of project design and implementation, project-specific separation, reuse, recycling and diversion targets in line with Green Star standards, and education, engagement and other tools such as incentives for encouraging revaluing and recycling materials that could otherwise go to landfill. 
For example:
Our development at 4 Murray Rose in Sydney Olympic Park, completed in 2018, required our contractors to divert more than 90% of construction waste from landfill and was awarded the relevant credit in its Green Star rating.
Our current development contract at 32 Smith Street in Parramatta requires greater than 90% of materials to be diverted from landfill throughout the development process. 
Our Wollongong Central development commenced in early 2012. By the end of 2014:
96% of construction and demolition waste was diverted from landfill
In addition to construction waste, a large volume of material has been excavated and removed from the site
In total 70,000 m3 of rock has been removed and transported to Port Kembla for use in the outer harbour expansion.
Challenges and Outlook
Optimising material recovery quantity and quality depends heavily on the waste management facilities available in the proximity of each asset and tenant processes and behaviours. With recent macroeconomic changes to the waste industry, including policy changes to the import of materials for recovery in China and Queensland, GPT's focus on a full understanding of the outcome of materials leaving its buildings prepares us to continue to seek out closed loop recovery solutions and facilities; whilst we are impacted by the broader availability of facilities in the states in which we operate, we have analysed and are working with waste contractors and facilities to ensure the continued acceptance and recovery of material from our buildings.As GPT has been the leading adopter of outcomes-based reporting, working with waste contractors to change their processes and to improve their understanding of GPT's systems and objectives, is resulting in a growing capacity to find solutions for the upstream tenant processes and behaviours as well as the downstream processing facilities to achieve the best outcomes.
Our focus on education and engagement is resulting in improved tenant processes and behaviours and best practice waste treatment processes are becoming increasingly commercially viable once the product they receive has lower contamination and consistent tonnages. Waste composition analysis has shown that it is possible to achieve the 98% closed-loop recovery objective and aforementioned positive feedback loop will provide the pathway forward in the coming years to move towards the target.