Our value proposition for GPT's customers is to provide well-designed, well-managed, sustainable properties that create great customer experiences.

To identify new opportunities to enhance the customer experience offered by our Retail, Office and Industrial assets, GPT undertakes an extensive annual research program. Each year this program collects feedback from over 2,000 customer and community stakeholders whose time and participation we greatly appreciate.

Background and Policy
GPT is committed to being a sustainable business and acknowledge effective customer engagement as an important strategic priority. We pride ourselves on maintaining a strong and mutually beneficial relationship with our customers that enables us to provide high-quality, sector leading buildings and deliver engaging and memorable experiences that are appropriate to local contexts. Refer to our Customer Engagement Policy for more information.
Our customers include tenants and occupiers of our buildings as well as shoppers visiting our centres. Our engagement with each of these groups is based on the following four key principles:
Listen to our customers so that we can understand and act on their needs;
Share our knowledge with our customers so they can benefit from our insights;
Inform our customers and provide them with up-to-date information to help them in their business decisions;
Act on our customer requests and feedback to ensure we provide the best service to meet their needs.
Our approach
GPT's core business strategy is to own and actively manage quality Australian property assets. We have a strong track record of internally-managed property delivering great customer experiences and performance outcomes.
Over recent years we have become increasingly more involved in both strategic and day-to-day tactical decision making with our customers across our portfolio.
Our performance and ongoing success depends on that of our customers, so our annual research program equips GPT with a better understanding of our customers' needs and an assessment of how effectively GPT is meeting those needs.
Performance and targets
As we strive to provide high quality, sector leading buildings and experiences across each of our portfolios, we track our performance through tenant satisfaction surveys and identify and implement various business support and sustainability initiatives to help meet their needs.
Across the office portfolio, GPT uses a proprietary customer survey that allows comparison of performance amongst funds and to an individual building level across a range of criteria that includes property management and property performance measures. The survey is used across approximately 300 investment grade office buildings throughout Australia allowing for detailed benchmarking to the level of services within a building; for example: access control, cleaning, emergency training, lifts and security.
GPT aims to have all office buildings perform better than the survey benchmark score. In 2018, GPT was #1 in the Campbell Scholtens Customer Satisfaction Survey when compared to our peers, with an 85% satisfaction and 82% response rate from tenants.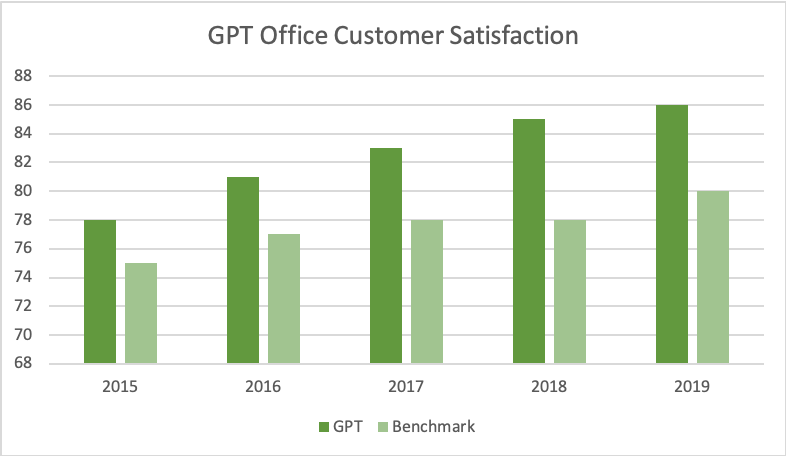 Across the retail portfolio, our goal is to ensure that all of our customers, occupants and shoppers have a high level of satisfaction with our sites and services and that we can use data to respond to customer feedback and create reasons for visitation. Alongside our peers, we participate in the TenSAT survey conducted by Monash Business School's ACRS Research Unit. Our aim is to consistently improve our performance and do so more quickly than the industry average, which we have been successful in over the long-term.
Business support
We provide our tenants with a range of initiatives which are designed to provide valuable information, insights and support to help them to be successful. In our Retail business, we work with our tenants to find tailored retail solutions that assist in driving their business performance. Based on individual circumstances, we facilitate relationships with external consultants who provide expertise in different areas pertaining to their business and provide customised marketing support as part of our retailer engagement strategy.  Specific business support programs include:
Critical Retail Barometer
Identifying areas of potential assistance for retailers in financial difficulties, the Critical Retail Barometer draws on the skills and experience of the GPT team and offers suggestions for improving performance.
Retail seminars
Designed to provide our retailers with industry trends and market information that can be applied to their business. Guest speakers present topics which cover consumer insights, economic analysis, digital trends and much more.
Sustainability support
We understand that our sustainability performance is, in part, dependent on that of our tenants and occupants. We have a range of programs designed to help our tenants and occupants improve the sustainability of their actions.
Sustainability support programs for our tenants include:
Building management committee meetings
Office portfolio property management team meet with tenants to present information on how the building is performing from an energy, greenhouse, water and waste perspective. The meetings enable discussion and collaboration on improving performance, including tenant actions where necessary.
Green leases
Minimum standards for tenant fit outs are managed through our 'Fit Out Guides' and the Ecological Footprint calculator for guidance of retail tenants.
Ecological minimum standards
Assists our Retail tenants to measure and reduce their impact on the environment by devising fit outs to reduce their eco-footprint.