Our performance
GPT's Corporate Community Investment Protocol aims to capture all material community-related investments made by GPT including:
Time volunteered by GPT employees;

Direct community investment;

Giving through the GPT Foundation (new to 2018);

In-kind giving; and

Monetary contributions through donations and sponsorships.
GPT has invested significantly in community-valued facilities (such as End of Trip facilities, and playgrounds at our retail assets) over the past years. Most of our assets now have these facilities in place, reducing the requirement for additional investment in this area. Expenditure in other categories remains steady or has increased, reflecting our continued focus on investing in and creating value for the community.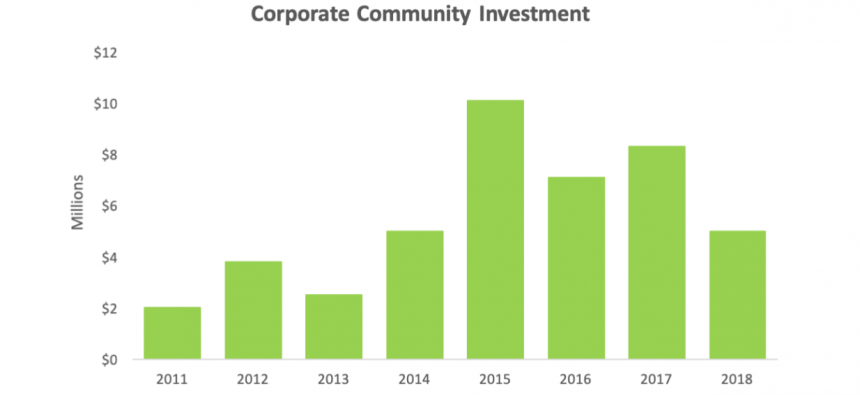 Corporate Community Investment Reporting - 2018 Results
In 2018, $5.02 million was invested in our communities as detailed below. This met our target of $5 million of investment for the 12 months.
Contribution

2018

2017

Explanation for change in spend

Examples

Direct community investment

$3.15m

$6.88m

Previous years reflected significant investment in end of trip facilities and playgrounds, many of our assets now have these community facilitates so further investment has not been required at the same levels

Playground and community gardens

 

Investment in End of trip facilities

 

Family entertainment and community events

 

Sponsorship

$0.21m

$0.36m

Some sponsorship expenditure moved to the GPT Foundation

Sponsorships at asset level

 

GPT Foundation

$0.30m

-

 

New to 2018, GPT established a Foundation during the year through which the majority of the corporate community investment spend is channelled

This includes investment in and donations to our seven Foundation community partners, and matching of workplace giving

Volunteering time

$0.21m

$0.17m

GPT maintains a high level of employees volunteering with community organisations

GPT employees volunteering throughout the year and on the annual Community Day

In kind provision of charity and community space

$0.50m

$0.52m

GPT continues to offer space free of charge to community organisations

 

Providing space in shopping centres or office building foyers for charity and community events

Management support

$0.62m

$0.33m

This increase indicates the significant employee and management time invested in furthering our Reconciliation Action Plan goals, the employee committee that governs the GPT Foundation and the focus on LGBTIQ inclusion in the workplace

GPT employees working on programs, activities and systems to deliver community outcomes

Leverage

$0.05m

-

New to 2018, GPT recognises the role to play in facilitating giving to charitable organisations by our people / other business partners

Contributions to community organisations facilitated by GPT activities

We have reviewed our Community Investment reporting practices against the London Benchmarking Group, resulting in a refinement of our Reporting Protocols [PDF].
Employee volunteering
The percentage of staff volunteering has increased on prior year to 77 per cent, exceeding our target rate of 75 per cent.